In the race to be Santa Barbara County's next DA, you would think that
Josh Lynn
would have the decided advantage. After all, he is the Chief Trial Deputy in the office, was acting DA for a short while and has the backing of the two individuals who previously held the office.
Add to that the fact that he recently prosecuted the high-profile Jesse James Hollywood murder case in which he secured a conviction and a life sentence and you'd think that nobody in their right mind would want to be running against him.
Then why is it that Lynn looks like he's huffing and puffing and his opponent, Senior Deputy DA
Joyce Dudley
, looks like she's hardly breaking a sweat in this race?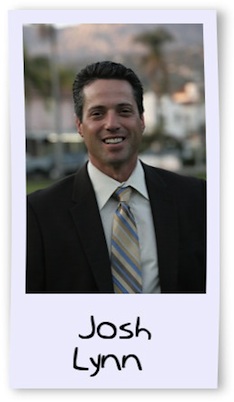 Being overconfident is one thing Lynn
can't
be accused of.
For years the Santa Barbara DA's office had been a friendly and collegial place to work. This campaign has transformed it into two antagonistic camps: Lynn's backers and Dudley's backers.
In fact when the Board of Supervisors met earlier this month to consider appointing an interim replacement for DA Christie Stanley who retired early due to deteriorating health, the audience was packed with deputy district attorneys who appeared to be all but ready to throw down if necessary in support of their respective candidates. The situation was quickly diffused when the Board, in somewhat of a surprise, indicated they would not appoint anyone and instead let the title of interim DA
go by default to Ann Bramsen
, who by virtue of being the highest paid attorney on the books in the DA's office, got the job.
Of course by then, Lynn's campaign had already put up a website,
www.joycedudleymisconduct.com
, which was intended to dim a light or two in Dudley's high wattage marquee. To say the site looked scary would be an understatement. I've seen ransom notes that were less frightening than that web page. It contained links to documents and decisions from old cases where Dudley's strategies and tactics had been called into question.
If there was any doubt, the launch of that website officially christened this as a nasty campaign.
Maybe someone gave Lynn or his handlers the word that instead of generating a fear factor about Dudley, the website was only making Lynn look desperate. When I visited the site Wednesday night it was taken down and this message appeared instead: "Due to unanticipated traffic levels our site is undergoing an upgrade. We will be back soon."
"Unanticipated traffic levels?" While that's a phrase that you might encounter when trying to navigate to the Sports Illustrated swimsuit edition website, I find it a little hard to believe that the "Joyce Dudley Misconduct Page" was getting that kind of volume of visitors. And no, there were no shots of Joyce in a bikini posted there.
So why, with all of the natural advantages he enjoys, might Lynn be in trouble in this race? Three reasons.
First. Dudley's a Democrat, Lynn is a Republican. Any talk about this being a "non-partisan" race is a lot of hooey. The southern part of Santa Barbara County is a "blue state." The North County, where the division between Dems and Republican's is more or less even, is up for grabs and with neither candidate being from or having worked in the North County both will undoubtedly be trying to make inroads there. Lynn is lucky, this is an "off-year" election. Think of the uphill battle he would have had to fight if Barack Obama had been at the top of the Democratic primary ticket.
Second.
Dudley's raised more money
. At the close of the last reporting period Lynn had raised just shy of $50,000 compared to Duddly's $75,000. And it wasn't even that close when you consider the fact that $18,000 of Lynn's $50,000 came from a single donor, his brother. Of course, all the money in the world won't help if you don't spend it wisely (think Randall Van Wolfswinkel and Preserve Our Santa Barbara) but you can't spend what you don't have, and it appears that Dudley will have plenty of money to spend.
Third. Fire! Remember
all of the discontent
over the handling of the Tea Fire suspects by the DA's office? There's a lot of public outrage to be tapped into and Dudley, who is not part of the office's management, is better positioned to capitalize on it than Lynn, who is part of the management team. And with the June election falling just weeks after the one-year anniversary of the Jesusita Fire, this may be a "hot" issue again.
To be sure, it's early and there's still lots of time for Lynn to marshall his considerable assets and emerge the victor in June. It may very well come down to who can raise the most money and put in the longest hours campaigning.
And, in Lynn's case, he better hope that voters have short memories about that "heavily trafficked" website.
* * *
Jury selection is scheduled to begin today in Dawn Hobbs' lawsuit against the Santa Barbara News-Press over its alleged failure to pay her overtime compensation when she was a reporter for the paper. The trial will take place in the courtroom of Santa Barbara Superior Court Judge James Brown.
&copy 2010 by Craig Smith and www.craigsmithsblog.com