With over 200 movies in this year's Santa Barbara Film Fest, you're bound to come across a few that, well, may not be to your liking. I encountered one such movie on Wednesday morning, and, since I left in the middle of the showing, it's probably not fair for me to mention the name of the film. After all, I didn't see all of it and, it might have gotten a whole lot better after I left. But, I doubt it.
Anyway, it reminds you that sometimes you have to see a bad movie to realize how well done the good ones are. Of course, the same could be said for a lot of things in life.
* * *
Most of us around here know Russ Spencer as a frequent contributor to the Independent. But besides being a writer he is also an accomplished documentary filmmaker.
Well over a year ago, I ran into Russ at a local event, asked him what he was up to lately and he told me about the film he was making that focused on two aspiring surfers. Well, that film has its world premiere tonight at the Santa Barbara Film Fest.
Hana Surf Girls
is about female empowerment through surfing. Set in the same town that inspired the movie
Blue Crush
, it follows two small town surf girls as they begin to move out of their isolated, idyllic nest.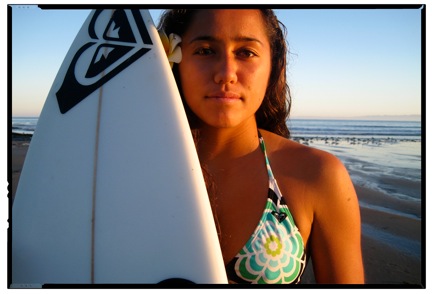 Lipoa Kahaleuahi who is featured in Hana Surf Girls
There is a trailer for the movie
posted at the film's website
.
Surf films are always popular at the Santa Barbara Film Fest. A few years ago, the audience almost literally busted down the door of the Arlington Theater to get into a showing of a film that was aptly titled
Bustin' Down The Door
.
Hana Surf Girls will be shown tonight (Thursday) at 7 pm at the Lobero and will have an encore showing Sunday at 1:45 pm at the Metro 4.
Considering how surf films always draw a big crowd and the large number of friends Russ has in town, I'd be sure to get to the screenings early.
And if you want more Film Fest coverage,
it's aggregated here
.
And there are new photos in the
Film Fest Photo Gallery
.
* * *
Film Fest suggestions and recommendations for Thursday.
Three Big Ideas
, Sam Tyler's documentary film that
I blogged about on Tuesday
, has its encore showing at 12:30 pm at the Victoria Theater.
I Am Love
, This movie played at Sundance. Stars Tilda Swinton. "Beautifully filmed," says Roger Durling. Screens at 4:30 pm at the Lobero.

Shadow Billionaire
, about the disappearance of Larry Hillblom (the "H' in DHL) and those who came out of the woodwork to claim his fortune. Shows at 4:45 pm at Victoria Hall.
John Kleiner's,
Disappointment Valley: A Modern Day Western
, is a documentary about wild horses that symbolizes what has happened to an icon of America. Viggo Mortensen and Darryl Hannah make appearances in the film. Shows at 6:30 pm at Victoria Hall.

8, The Mormon Proposition
This film is about the Church of Jesus Christ of the Latter Day Saint's role in the passage of Proposition 8. Screens at 9:30 pm at Victoria Hall.
The Nothing Men
.
Up In The Air
was about a guy who flys all over the country handing out pink slips. This film is about factory workers waiting to receive them. Shows at 10 pm at the Lobero.
And if you like the glamour of the red carpet, or simply want to stand out in the middle of State Street while it's blocked off to traffic, Julianne Moore receives the Montecito award at 8 pm at the Arlington.
The complete Film Fest
schedule of showings
is at Edhat.
&copy 2010 by Craig Smith and www.craigsmithsblog.com