Sometimes you just have to let the pictures do the talking. Like when you have the director of the world's number one film and the Governor of California together on the same stage, which was what happened on Saturday night at the Arlington Theater.
James Cameron receiving the Lucky Brand Modern Master Award from "The Governator."
PHOTO CREDIT: CHUCK CAGARA / www.MagicalLightPhotography.com
Count me among those who will be happy when Schwarzennegger leaves office and goes back to making movies.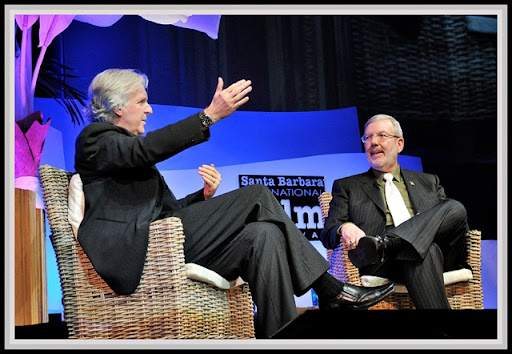 James Cameron being interviewed by film critic Leonard Maltin
PHOTO CREDIT: CHUCK CAGARA / www.MagicalLightPhotography.com
More photos from last night at
Edhat
and at my own
Film Fest Photo Gallery
. And
Noozhawk
, now has a Film Fest Photo gallery!
And Cameron wasn't the only person with his name in lights on a State Street marquee on Saturday night.
While Cameron was being honored at the Arlington, just a block down the street at the Granada Theater a large number of people, myself included, gathered to honor one of my oldest and best friends, former Assistant District Attorney Eric Hanson, who last month retired after 33 years in the Santa Barbara DA's office.
* * *
If you're heading out to see some movies at the Film Fest, here are some suggestions as to what to see.
Ten Stories Tall
, is an ensemble drama about the loss of a family matriarch who was involved in a lesbian relationship. I had a chance to meet David Garrett, the writer and director of this film, at the Filmmaker's Breakfast Saturday morning. He told me that during a two-year period he lost a significant number of friends and family and the observation of other people dealing with grief and loss inspired him to do the story. The cast includes some well-known actors, Tovah Feldshuh and Ally Sheedy. The movie screens at 10:30 Sunday morning at the Metro 4 and again Monday at 2 pm at the Lobero. Feldshuh will be here for the Q&A's which follow the screenings.
There's an especially strong Director's Panel at 11 am at the Lobero. Scheduled to be here are Oscar nominees Katherine Bigelow and James Cameron who will be joined by Jason Reitman, Peter Doctor and Quentin Tarantino.
How To Live Forever
, a documentary about how to live longer that Roger Durling calls, "quite delightful." It screens at 4:30 pm at the Metro 4.
The Legend of Stewart Mossman
, which screens at 4:45 at the Metro 4, is about the famed guitar maker.
Actors Emily Blumt, Carey Mulligan, Saoirse Ronan, Gabourey Sidibe and Michael Stuhlbarg are appearing at the Lobero at 8 pm where they are being honored with The Chopin Virtuosos Award.
There you have it.
By the way, is there a football game on today?
&copy 2010 by Craig Smith and www.craigsmithsblog.com